What's the Difference Between South Carolina and Oregon?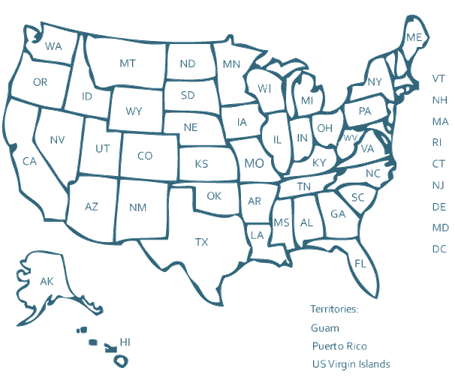 Did you know that South Carolina has no statute of limitations for the criminal prosecution of sex crimes, while in Oregon a prosecution is generally barred after six years? Or that Indiana and 32 other states sometimes allow for the termination of rapists' parental rights over any child born from that rape (while Maryland and Massachusetts are two of the states that don't have laws that take these rights away from rapists).
"One of the most common questions we get from website visitors is 'What's the law on x?' " says Rebecca O'Connor, RAINN's vice president for public policy. "The answer, of course, is: It depends on where you live."
RAINN has just launched a new website tool that allows users to compare sexual violence laws in different states, says O'Connor. The information is available thanks to generous support from and the partnership of Hogan Lovells, a global legal practice with more than 2,500 lawyers.
RAINN's new State Law Report Generator lets you compare up to four states and eight issues to see how they're handled differently. Do you need to know how your state's definition of a particular crime stacks up against other states? Not sure whether your state considers conversations between sexual assault service providers and victims confidential? Are dental hygienists are required to report sex abuse? We've got these answers and more. You can even generate custom reports.
Visitors may use the site to research each state's law on:
o HIV/AIDS Testing of Offenders
o Mandatory Reporting for Crimes Against Children
o Mandatory Reporting for Crimes Against the Elderly
o Laws about Private Communications for Victims
o Criminal Statutes of Limitations
o Termination of Rapists' Parental Rights
o Sex Crimes: Definitions and Penalties
"This is a great tool for legislators, media, students and anyone who wants to know detailed information about state laws," says O'Connor. She adds that, thanks to Hogan Lovells, these databases will be updated again in early 2015 (until then, data is current through December, 2013 – please be sure to check for any updates in your state).
Correction: An earlier version of this article stated that Kansas has a five-year statute of limitations for rape. Recently, Kansas eliminated the five-year statute of limitations on rape and aggravated sodomy, and amended its law to allow a victim of violent sexual abuse 10 years after their 18th birthday to report the crime.