House Passes VAWA, Including SAFER Act; Bill Heads to President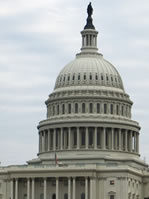 The U.S. House of Representatives today followed the Senate in voting to renew the Violence Against Women Act, sending it to the president to be signed into law. VAWA, which has helped reduce the level of sexual violence in the US, expired more than a year ago.
"Today's vote to renew VAWA is a big victory for victims of sexual violence. This bill extends successful programs that have helped reduce rape in the US, while adding new protections for victims. It also incorporates the SAFER Act, which will help eliminate the backlog of untested DNA evidence from unsolved rape cases and take countless rapists off the streets," said Scott Berkowitz, RAINN's president & founder.
The bipartisan VAWA, introduced by Senate Judiciary Committee Chairman Patrick Leahy (D-VT) and Sen. Mike Crapo (R-ID), passed the Senate earlier this month. Rep. Gwen Moore (D-WI) was lead sponsor of the House bill.
The SAFER Act was led by Sens. John Cornyn (R-TX) and Michael Bennet (D-CO) and Reps. Ted Poe (R-TX) and Carolyn Maloney (D-NY).