Two New Ways for Sexual Assault Survivors in the Military to Get Help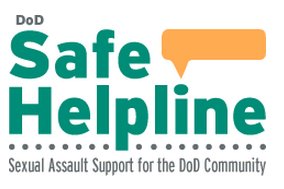 Safe Helpline this month launched two new features to provide members of the Department of Defense (DoD) community affected by sexual assault with high quality support: Follow-up support services and retaliation reporting. These two new features were created as part of on-going efforts to ensure that survivors have access to support and care.
By providing follow-up support services, Safe Helpline staff can better support survivors who are interested in connecting with local resources. Safe Helpline staff now offer the option to receive a follow-up phone call to discuss recommended resources. This new feature is available to those who have yet to report their assault, and gives users the flexibility to provide as little or as much information as they feel comfortable sharing.
The second new feature gives visitors to safehelpline.org a new way to report retaliation. A secure web form is available to those who have experienced or witnessed retaliation in any form following a report of sexual assault —whether from a peer, supervisor or someone in their chain of command. The report, which can be filed anonymously, goes directly to SAPRO leadership, safely and securely. Users can also choose to have the report sent to the DoD Inspector General Hotline to begin a formal investigation.
With these new features, Safe Helpline is expanding the support services offered to the DoD community and addressing barriers that some sexual assault survivors face when coming forward. To learn more about these offerings and the five ways to access support through Safe Helpline 24/7 worldwide, visit safehelpline.org.
Department of Defense (DoD) Safe Helpline provides confidential crisis support and information for members of the DoD community affected by sexual assault. You can get the help you need — while remaining anonymous. Safe Helpline services are provided by the DoD Sexual Assault Prevention and Response Office (SAPRO) and are operated through a contract by the Rape, Abuse & Incest National Network (RAINN), the nation's largest anti-sexual violence organization.