Strategies to Support Survivors of Intimate Partner Violence During COVID-19
This October, RAINN recognizes Domestic Violence Awareness Month and the impact that sexual violence has on those trapped at home with an abuser. Because 8 out of 10 sexual assaults are committed by someone the victim knows, staying at home can mean that a survivor is in close proximity with the person harming them. Remote working and schooling not only keeps survivors close to abusers, it can isolate a survivor from their support network or others who could assist them. Because so many doors are closed right now, it is more important than ever to be proactive in offering survivors support and resources.
Keep in touch
To support a survivor from a distance, continue to be present in their life by scheduling time for video calls, virtual game nights, or socially-distanced outings. Having a strong support network is important to survivor's psychological well being. If a survivor discloses, believe them and offer non-judgmental encouragement. Be aware of resources in place for survivors of intimate partner violence and offer them as needed. Online chats, such as those offered by RAINN's National Sexual Assault Online Hotline and the National Domestic Violence Hotline can be a safe alternative if there is not privacy at home to make a phone call to a hotline.
Look out for warning signs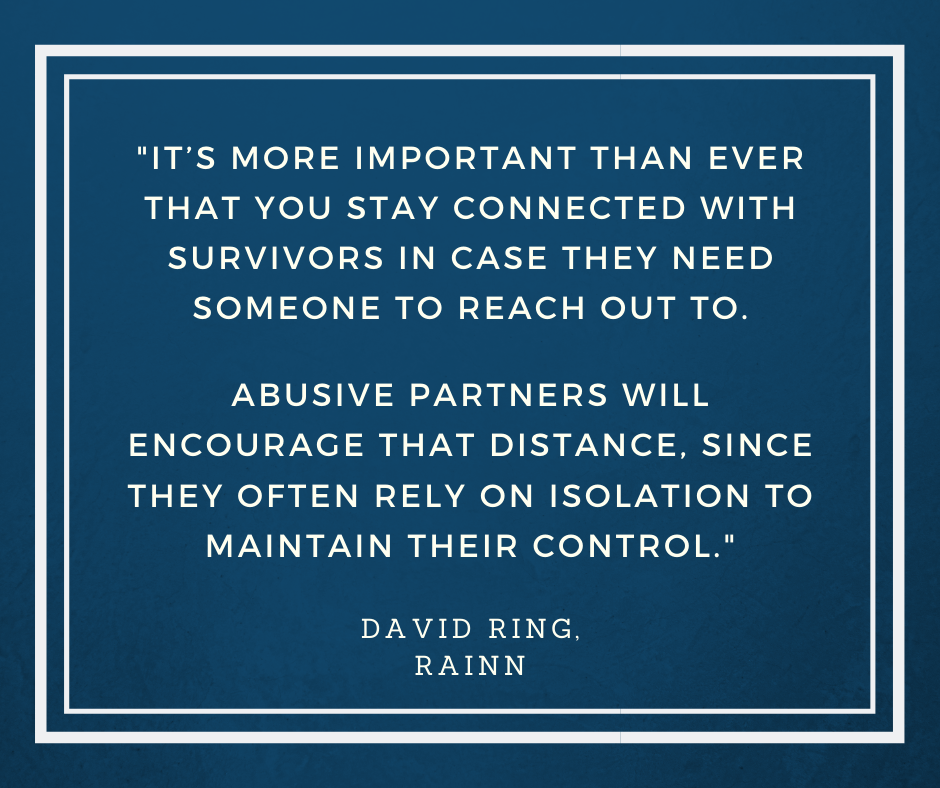 It's important to know the physical and emotional warning signs of abuse. A survivor experiencing intimate partner violence may show changes in behavior and express fear or anxiety when discussing the abuser, prioritize the person abusing them above themself, or begin distancing themself from friends and family.
"It can be hard, but if you're worried about someone, try to overlook the small arguments and disagreements that might discourage you from staying in touch," says David Ring, a hotline director at RAINN. "It's more important than ever that you stay connected with them in case they need someone to reach out to. Abusive partners will encourage that distance, since they often rely on isolation to maintain their control."
Physical signs, such as injuries, may also appear in addition to emotional signs. It is important to not jump to conclusions based on these signs alone, but to check in with the individual first. Even if they are not ready to disclose or get help, there are still resources available.
Support without judgment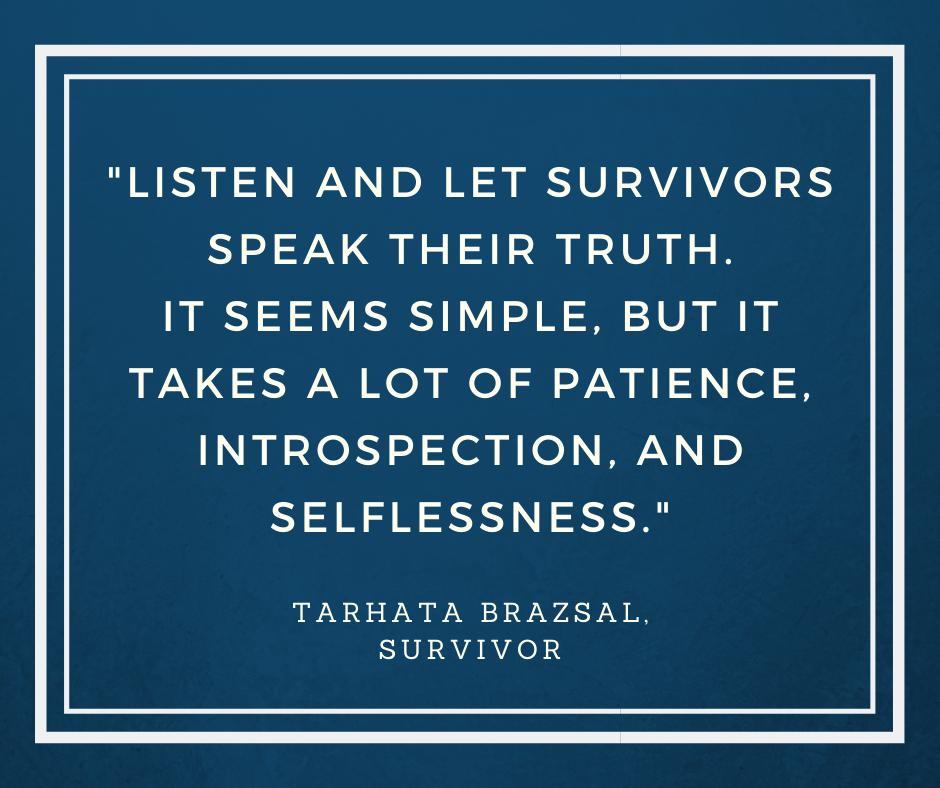 If you know someone who may be experiencing abuse, try to offer them compassion without judgment, and support without forcing them to come forward or take any actions they aren't ready for. For Sharon, the friend she confided in about her abusive marriage told Sharon's mother against Sharon's wishes, which led to her not telling anyone else for another three years. Tarharta, another survivor of intimate partner violence, advises, "Listen and let survivors speak their truth. It seems simple, but it takes a lot of patience, introspection, and selflessness… Offer yourself to be part of their healing process but do it on their timeline."
Provide resources
For those experiencing intimate partner violence, know that there are resources available. To speak with someone who is trained to help, call the National Sexual Assault Hotline at 800.656.HOPE (4673) or chat online at online.rainn.org and in Spanish at rainn.org/es. It's free, confidential, and available 24/7. The National Domestic Violence Hotline is also available 24/7 at 800.799.SAFE (7233) or to chat online or Spanish online chat.