Show you C.A.R.E.: Four Ways To Keep Your Friends Safe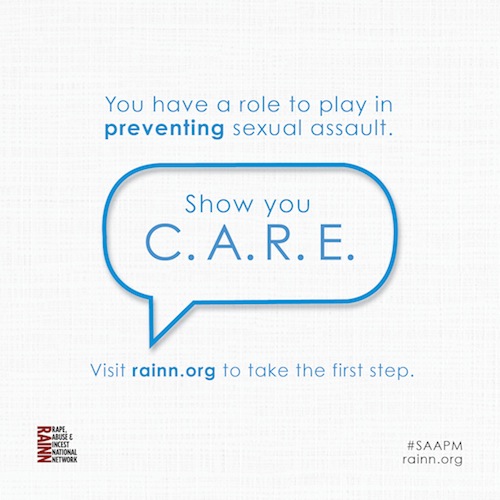 April is National Sexual Assault Awareness and Prevention Month (#SAAPM). That's why this month, RAINN is highlighting the important role that friends play in keeping each other safe. It's about stepping up and showing you "C.A.R.E." You have the ability to make a difference by intervening in a way that fits the situation and your comfort level.
If you find yourself in a situation where someone looks uncomfortable or something doesn't seem right, consider one of the following ways to step in:
In honor of #SAAPM, RAINN will highlight each of these steps in a new infographic series. A new graphic will be released each week through RAINN's Facebook Page.
Read what RAINN President Scott Berkowitz has to say about how to C.A.R.E. for a friend in the Huffington Post.
Looking for more ways to make a difference? Check out "Seven Ways to Take Action in April."
If you or someone you know has been affected by sexual violence, it's not your fault. You are not alone. Help is available 24/7 through the National Sexual Assault Hotline: 800-656-HOPE and online.rainn.org.