RAINN's Award-Winning Partnerships are Shaping the Narrative
Stories have the power to spark change and to reach people where they are. RAINN's work with consumer and media brands is changing the conversation about sexual violence; and winning awards along the way.
The Shorty Awards go to RAINN Partner Absolut
The "Drink Responsibly. #SexResponsibly" campaign by Absolut, Pernod Ricard USA, and RAINN was recently awarded Shorty Social Good Awards in the categories of Food & Beverage (Winner), Business-NGO Partnership (Gold) and PSA (Gold).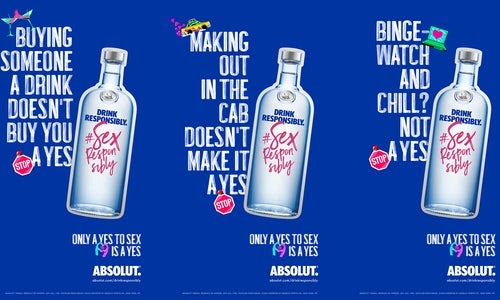 The Shorty Social Good Awards honor agencies, brands, and nonprofits that partner together to raise awareness of critical issues and create positive impact through innovative campaigns across digital platforms.
"We worked with Absolut on ensuring the campaign was accurate and sensitive to the experiences of survivors," said Heather Drevna, vice president of communications at RAINN.
Ann Mukherjee, survivor and CEO of Pernod Ricard North America, also serves on RAINN's National Leadership Council. Read more about her story and RAINN's partnership with Absolut in her recent interview.
"In a survey conducted with 21-30 year olds, 61 percent said they believe companies should play a role in tackling the issue of consent," said Mukherjee. "When you pair that data with the startling reality that every 73 seconds, an American is sexually assaulted—frequently involving the perpetrator's misuse of alcohol—you can understand why we feel compelled to take a stand on the issue."
The Nominees for the Sentinel Awards Include RAINN Partners HBO, Netflix and Facebook
In addition to partnering on awareness and prevention campaigns, RAINN also engages with entertainment partners at all levels of creation and production to ensure accurate and sensitive storylines and representation of sexual violence in television and films.
For example, RAINN partnered four of the five nominees in the sexual assault category for this year's Sentinel Awards, sponsored by Hollywood Health and Society to acknowledge exemplary storytelling on issues that impact health and society. RAINN worked with HBO's I May Destroy You, this year's winner, which centers around a survivor's journey of shame, fear, and anger in the aftermath of sexual assault, to ensure viewers had resources.
RAINN also worked with Netflix's Sex Education and Facebook Watch's Five Points to provide consulting on storylines and social media campaign support.
"Pop culture has the power to shape the narrative around sexual violence," said Drevna. "Through partnerships, we've been able to spread awareness and resources of this vital issue through content that reaches millions of households."
Another RAINN partnership with a Sentinel Award nominee, Unbelievable, a Netflix limited series from CBS Television Studios, brought producers and members of the cast to Capitol Hill last year to advocate for policy measures to end the rape kit backlog.
"When survivors see themselves in sensitive and informed storylines around sexual violence, they know that they aren't alone," says Drevna. "For many of the shows we consult on, we see a marked increase in calls to RAINN's hotline after they air. Telling these stories truly makes a difference."
The Young Director Gold Award Goes to RAINN Partner Samantha Scaffidi of Smuggler
Accurate and informative PSAs can not only raise awareness of sexual violence, but also humanize and put into context the effects of crucial legislation. Smuggler and RAINN partnered on "Wait," a PSA to raise awareness of the nationwide shortage of sexual assault forensic nurse examiners, meaning that survivors sometimes are forced to wait hours after an assault to collect DNA evidence in a rape kit. Directed by Samantha Scaffidi, "Wait" was awarded Gold in the category of charity commercial in the 2020 Young Director Award.
Based on her own experience waiting for 10 hours in an emergency room with a friend who had just experienced assault, Scaffidi wanted to move viewers to support vital legislation to ensure survivors can get the care they deserve.
"Art, film, storytelling—can do a service. The most powerful pieces of art are things that can be entertaining, but you also come away from them knowing more about yourself, about the world," said Scaffidi. "There's a huge opportunity in entertainment work and advertising to make a difference. I feel a responsibility to continue to do this work with the platform I've been given."