RAINN Q&A: Meet the DoD Safe Helpline Marketing Manager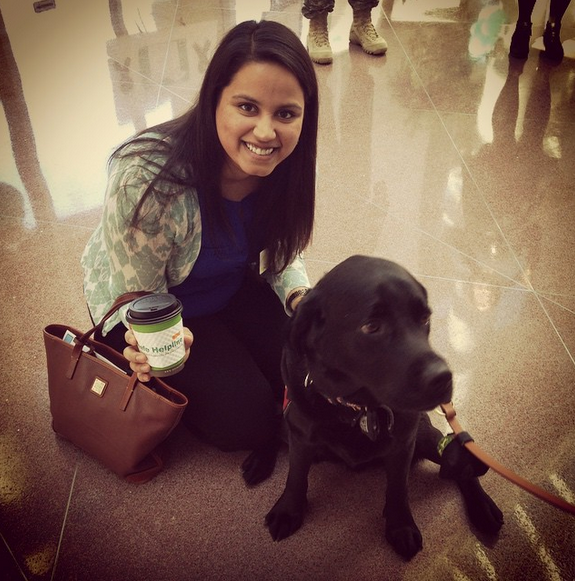 April is Sexual Assault Awareness and Prevention Month (SAAPM), and we went behind the scenes for an exclusive interview with one RAINN staff member, Kinjal Dalal, who supports the Department of Defense (DoD) Safe Helpline, a crisis support service for members of the military community.
Tell us about yourself.
I joined the RAINN team in October of 2013, and have a degree in marketing and business administration from the University of South Carolina. I love that I get to wake up every day and do work that I know impacts people on a very real level.
What is your job at RAINN?
As the Safe Helpline marketing manager, I work to identify opportunities to communicate and spread the word about Safe Helpline. That can take shape in a lot of different ways, but it usually means cultivating partnerships with U.S. military bases and installations worldwide to build awareness of Safe Helpline services.
Over the past few years at RAINN I have had the opportunity to create print materials, travel to bases all over the U.S. to speak with Service members directly about Safe Helpline, and am always working with the team here to identify new ways to reach survivors — from coffee sleeves to PSAs with Safe Helpline staff.
What is DoD Safe Helpline, and why is it needed?
Safe Helpline provides a clear channel for sexual assault survivors in the military to receive the care and resources they need in an anonymous, confidential support platform. Through the six Safe Helpline services (Telephone Helpline, Online Helpline, Self-Care Mobile App, a secure peer-to-peer chat room, Info-by-text, and info at safehelpline.org) we work to meet a survivor where they are in that moment, and get them resources that work for them.
What is a typical day like for you?
Right now the focus is on Sexual Assault Awareness and Prevention Month, so I'm mostly busy attending events in the Washington, DC area to promote Safe Helpline face-to-face. My activities vary day-to-day, but could involve anything from writing a blog post, creating new materials or content, or communicating with Sexual Assault Response Coordinators (SARCs) on bases worldwide to help implement sexual assault awareness programs.
What do you love about this job?
I've always been very service-minded. I was a member of my high school's National Honor Society chapter, and active with Omega Phi Alpha, a national service sorority, in college. It was always my goal to carry the idea of service into my professional life, too. The opportunity to work at RAINN and support Safe Helpline fell right in line with my desire to make a positive impact every day.
What is your favorite thing about SAAPM?
SAAPM is a great opportunity to remind people everywhere about how everyone has a role to play in stopping sexual violence and supporting survivors. For Safe Helpline, that means working with Sexual Assault Response Coordinators and Victim Advocates all over the world to spread information about Safe Helpline resources.
I love seeing all the creative activities that bases and installations do to honor survivors every April. This year, the Safe Helpline coffee sleeves were back by popular demand and an even bigger hit than last year. I also recently got to meet Falcon, the Wisconsin National Guard SAPR office service dog, at the National Guard Bureau SAAPM Kickoff event. Other events that I have been lucky enough to attend or work with include declaration signings, 5K races, and base-wide training sessions.
It's encouraging to see all the ways the military supports survivors during April, and all year long.
What's your favorite self-care activity?
I love to end a long day by cooking up something new and experimenting with recipes in my kitchen. Sometimes I'll even bring my most recent concoction and share it with the office. The best part of cooking is that you always get a treat at the end!