RAINN Partners with TNT's Cold Justice: Sex Crimes to Provide Support to Survivors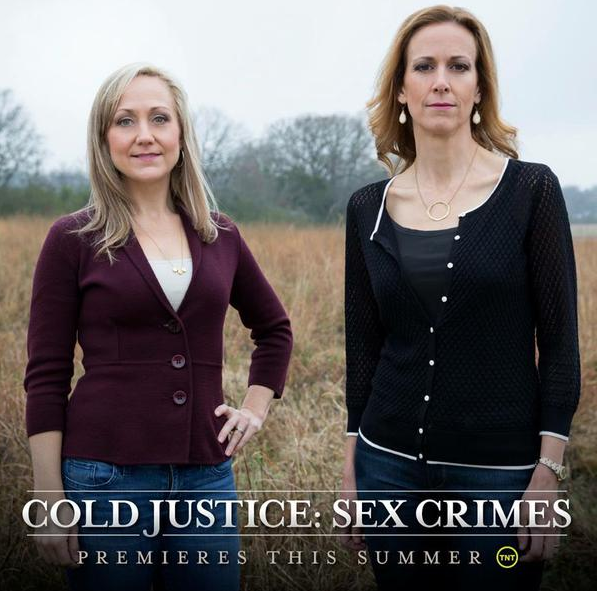 (July 29, 2015) – After helping close numerous unsolved murder cases around the country, TNT's Cold Justice franchise, produced by Wolf Reality and Magical Elves, is expanding with a new show focused on sexual assault cases. In each episode of Cold Justice: Sex Crimes, prosecutors use DNA evidence from an untested rape kit to investigate an unsolved rape.
The show's producers hired RAINN to have staff on set during the filming of every episode. Sunitha Menon, RAINN's Director of Training and Consultation Services, says, "We worked to ensure that the survivors in each episode received the support they deserved, assisted the show's crew, and helped make sure that no personal information was revealed without the express permission of the survivor."
"In the 17 years since I created 'Law & Order: SVU,' there has been an exponential increase in awareness and reporting of sex crimes, yet there are still major concerns, including the rape kit backlog," Executive Producer Dick Wolf said. "Our intent is for 'Cold Justice Sex Crimes' to provide closure, and to encourage victims to report these brutal crimes."
As RAINN's first season-long collaboration with a non-scripted television show, each episode of Cold Justice: Sex Crimes will include National Sexual Assault Hotline information (800.656.HOPE and online.rainn.org) to provide viewers with immediate help. "RAINN has a long history of collaborating with national television networks, but our partnership with TNT's Cold Justice is the first of its kind," said Katherine Hull Fliflet, RAINN's vice president of communications.
The new series follows prosecutors Casey Garrett and Alicia O'Neill as they travel to cities and towns around the country to help local law enforcement uncover new evidence, re-examine old evidence, test rape kits and conduct interviews with witnesses and potential suspects, all in the hope of closing cases that have sat dormant for years.
DNA evidence has become a routine part of investigating and prosecuting all types of crime, and is often an important tool in achieving justice for survivors of sexual assault. But the backlog of unanalyzed sexual assault forensic exam evidence, often referred to as the "rape kit backlog," is one of the biggest obstacles to prosecuting perpetrators of sexual violence. A recent USA Today investigation found that more than 70,000 kits sit untested.
Cold Justice: Sex Crimes premieres Friday, July 31, at 9 pm ET. Each episode
will be available across TNT's on-demand, digital and mobile platforms the day after it premieres on TNT.
Cold Justice: Sex Crimes is executive-produced by Emmy® winners Dick Wolf (Law & Order, Chicago Fire), Dan Cutforth & Jane Lipsitz (Top Chef, Project Greenlight) and Tom Thayer (Hitchcock, Bury My Heart at Wounded Knee).
About RAINN
RAINN (Rape, Abuse & Incest National Network) is the nation's largest anti-sexual violence organization and was named one of "America's 100 Best Charities" by Worth magazine. RAINN created and operates the National Sexual Assault Hotline (800.656.HOPE and online.rainn.org) in partnership with more than 1,000 local sexual assault service providers and operates the DoD Safe Helpline for the Department of Defense. In 2015, the Online Hotline expanded to offer services in Spanish at rainn.org/es. The hotlines have helped more than two million people since 1994. RAINN also carries out programs to prevent sexual violence, help victims and ensure that rapists are brought to justice. For more information about RAINN, please visit rainn.org.
About TNT
TNT is television's destination for drama. Seen in 101 million households and ranking among cable's top networks, TNT is home to such original drama series as Rizzoli & Isles, Major Crimes, Falling Skies, The Last Ship, Murder in the First, Legends, The Librarians, Proof and the upcoming Public Morals, Agent X and The Alienist. TNT also features the unscripted investigation series Cold Justice and the upcoming Cold Justice: Sex Crimes. In addition, TNT is the cable home to popular dramas like Castle, Bones, Supernatural and Grimm; primetime specials, such as the Screen Actors Guild Awards®, the Live Nation Music Awards and the iHeartRadio Music Awards; and championship sports coverage, including the NBA and the NCAA Division I Men's Basketball Championship.
TNT is part of Turner Broadcasting System, Inc., a Time Warner company. Turner Broadcasting creates and programs branded news; entertainment; kids and young adult; and sports media environments on television and other platforms for consumers around the world.