Four Ways You Can Support A Friend This April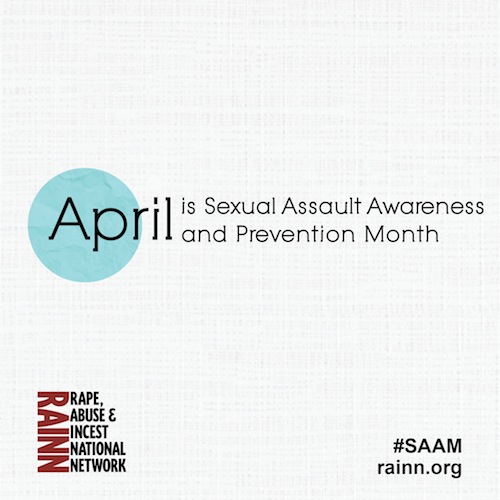 (April 2, 2014) -- April is National Sexual Assault Awareness and Prevention Month. But speaking about something like abuse or assault can be especially difficult. That's why if you or someone you love has been affected, it's crucial to have a support system in place.
If someone discloses details of an assault, there are ways to be supportive. The reaction of the first person a survivor tells can impact his/her decision to move forward and get help — whether that involves contacting the National Sexual Assault Hotline or reporting a crime to the police.
That's why this April, we are focused sharing ways you can support a friend, or what to look for in a supportive friend. If a friend or loved one opens up to you about a sexual assault experience, here are four ways you can be supportive through their healing process:
Listen. Speaking up can be the hardest part for a survivor. Validate your friend's experience by giving him or her your full attention and a listening ear. Don't judge or question their actions.
"I'm so sorry that happened to you. Do you want to talk about it?"
Respect. You may be the first person your friend tells. Let him or her share their story on their own terms. Allow your friend to move through the recovery process at his/her own pace.
"We don't have to talk about it right now, but I'm here for you when you're ready."
Share. A survivor may need or want additional support, resources for medical treatment or emotional support. Providing the National Sexual Assault Hotline (800.656.HOPE and online.rainn.org) is a good first step.
"I care about you. Can I get you connected to RAINN'S hotline?"
Repeat. Create a culture of openness by continuing to listen to your friend and provide support when appropriate.
"Thanks for sharing with me. Remember, I'm always here for you. Just say the word."
It's never too late for someone to get help. Whether an assault occurred 20 years ago, or just yesterday, you can still be there for a friend or loved one who has experienced sexual assault.
We've also condensed these four ways into a series of graphics that you can share through the month via RAINN's Facebook page.
For more ways to help a loved one, check out this article on rainn.org.
If you or someone you know has been affected by sexual violence, it's not your fault. You are not alone. Help is available 24/7 through the National Sexual Assault Hotline at 1-800-656-HOPE or visit the Online Hotline.