Broadway Stars Sing Tribute to Tori Amos for RAINN Benefit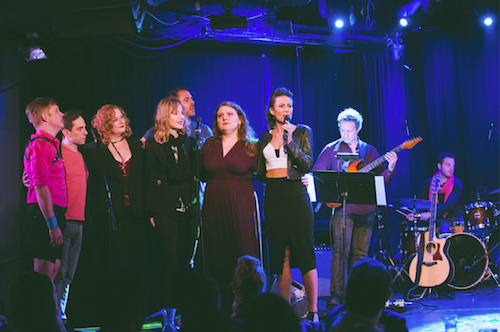 This April, RAINN partnered with some of Broadway's greatest stars to host Broadway Sings Tori — a one-night concert at New York City's (le) poisson rouge that celebrated the music of eight-time Grammy Award nominee, and RAINN's first spokesperson, Tori Amos.
RAINN worked with four long-time Tori devotees and top Broadway veterans to produce the event, including musical director Brian Nash (producer of award-winning Silence! The Musical and But I'm a Cheerleader), host Julie James (Broadway Names with Julie James), and co-hosts Colleen Harris (Alternatives), Brian Hampton and Keith Huckabay.
Included in the remarkable lineup of performers were Tony Award winners Laura Benanti (Gypsy, ABC's Nashville) and Lena Hall (Hedwig and the Angry Inch), and Broadway and cabaret performers Kyle Dean Massey (Pippin, Next to Normal), Lauren Molina (Sweeney Todd, Rock of Ages), Rachel Bay Jones (Pippin, Hair), Erin Davie (Side Show, Grey Gardens), Michael Buchanan (The Book of Mormon), Colleen Harris (Alternatives), Molly Pope (Found: A New Musical), Natalie Joy Johnson (Kinky Boots, Legally Blonde), Stephen Bienskie (Submissions Only), Garth Kravits (The Drowsy Chaperone) and singer-songwriter Scott Alan (Dreaming Wide Awake).
Tori's music has given many survivors the courage to speak out and has inspired many to get help. Survivor and co-host Colleen Harris delivered a moving testimonial about using RAINN's National Sexual Assault Hotline for the first time over 14 years ago, before performing Amos' song "Silent All These Years."
"Tori's voice led me to call RAINN, where I was able to speak with someone who listened without judgment, and helped me take some of my first steps toward recovery. RAINN was there for me when I didn't know how to be there for myself. I can never repay the kindness and help they've given me, as well as the two million others who've reached out to them," said Harris.
"RAINN is grateful for the generosity of musical director Brian Nash, co-hosts Colleen Harris, Keith Huckabay and Brian Hampton, and to all the incredible performing artists who donated their time and talent to the cause — and of course, to everyone who attended the show.," said Chelsea Bowers, RAINN's development director.
"We are so thankful to the Broadway community for spreading a message of hope, and for raising the funds to help nearly 2,000 survivors of sexual violence through RAINN's National Sexual Assault Hotline," she said.
For a closer look at Broadway Sings Tori, check out RAINN's photo album on Facebook here. And stay tuned on Twitter (@RAINN), Instagram (@RAINN), and Facebook for info about Broadway Sings Tori 2016!
If you or someone you know has been affected by sexual violence, it's not your fault. You are not alone. Help is available 24/7 through the National Sexual Assault Hotline: 800-656-HOPE and online.rainn.org.