ABC's Most Popular TV Shows Tackle Sexual Violence, Feature RAINN's Hotline
Two of this season's most popular shows featured storylines involving sexual violence last week. RAINN worked with ABC's Scandal and How To Get Away with Murder to sensitively and accurately portray issues affecting survivors of sexual assault, leading to an all-time high demand for the National Sexual Assault Hotline (800.656.HOPE and online.rainn.org). Following the airing of the PSA, RAINN saw a 47% increase in demand for the National Sexual Assault Hotline.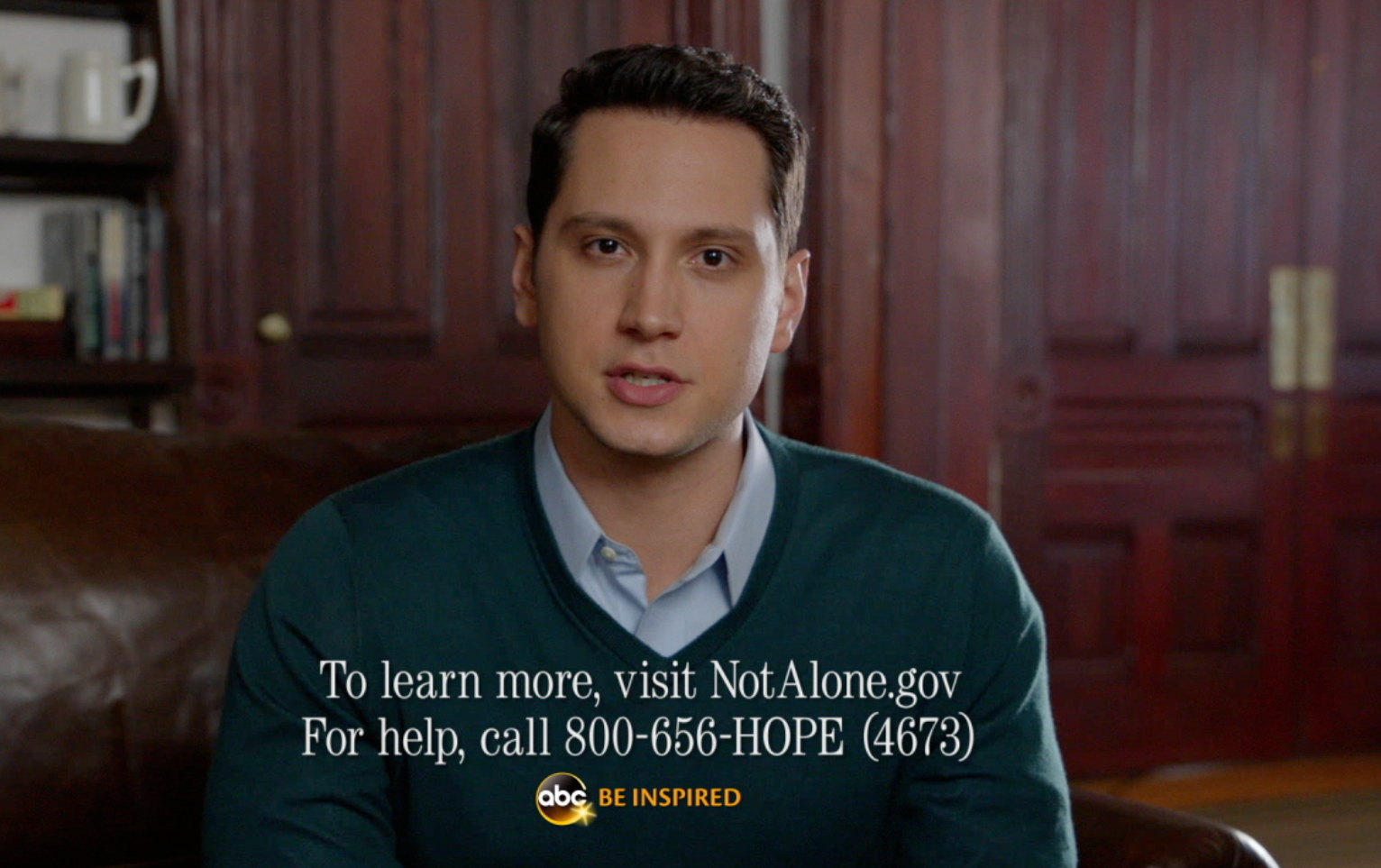 Click image to watch PSA in a new window. Please note that this video is view-only. Network restrictions limit us to presenting certain PSAs in QuickTime streaming format only.
Following ABC's How To Get Away with Murder last Thursday evening, star Matt McGorry delivered a PSA directing fans to get help through the National Sexual Assault Hotline. In the episode "I Want You to Die," McGorry's character is confronted about an opportunity to step in and stop a multiple-perpetrator assault. RAINN shared content on social media during the airing, offering four practical ways to step in and protect friends, and information about bystander.
In the Scandal episode "Even the Devil Deserves a Second Chance," actress Kerry Washington's character helps a client who discloses sexual assault at the hands of a high-profile mentor who drugged and raped her. The investigation in the episode brings more victims into the spotlight, not unlike the real-life Bill Cosby allegations.
"It's encouraging to see ABC working so hard to get it right," said Katherine Hull Fliflet, VP of Communications for RAINN. "The entire team—from the producers, to the writers, and the cast—has been working incredibly hard to make sure these storylines reflect the reality of sexual violence and ensure that survivors are connected with help."
Special thanks to ABC and Hollywood Health and Society for working with RAINN to create a PSA for the National Sexual Assault Hotline.
RAINN works with the entertainment industry, including producers, actors and musicians, to educate the public about sexual assault. Last month, the National Sexual Assault Hotline experienced record usage numbers following coverage of the hotline in a Lady Gaga music video, TNT's Cold Justice: Sex Crimes, and the documentaries Happy Valley and Cosby: The Women Speak.
If you or someone you know has been affected by sexual violence, it's not your fault. You are not alone. Help is available 24/7 through the National Sexual Assault Hotline: 800-656-HOPE and online.rainn.org, y en español: rainn.org/es.
About RAINN
RAINN (Rape, Abuse & Incest National Network) is the nation's largest anti-sexual violence organization and was named one of "America's 100 Best Charities" by Worth magazine. RAINN created and operates the National Sexual Assault Hotline (800.656.HOPE and online.rainn.org) in partnership with more than 1,000 local sexual assault service providers and operates the DoD Safe Helpline for the Department of Defense. In 2015, the Online Hotline expanded to offer services in Spanish at rainn.org/es. The hotlines have helped more than two million people since 1994. RAINN also carries out programs to prevent sexual violence, help victims and ensure that rapists are brought to justice. For more information about RAINN, please visit rainn.org.