The Offenders
The Rapist isn't a Masked Stranger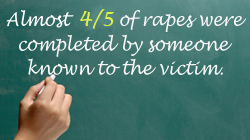 Approximately 4/5 of rapes were committed by someone known to the victim.1
82% of sexual assaults were perpetrated by a non-stranger.1
47% of rapists are a friend or acquaintance.1
25% are an intimate.1
5% are a relative.1

The Perpetrator's not Hiding in the Bushes
Approximately 50% of all rape/sexual assault incidents were reported by victims to have occured within 1 mile of their home or at their home.2
7% take place in a school.
13% take place at the home of a friend, neighbor, or relative.
18% take place in a public area, such as a commercial venue, parking lot, or park.

43% of rapes occur between 6:00pm and midnight.2

24% occur between midnight and 6:00am.
The other 33% take place between 6:00am and 6:00pm.

The Criminal

The average age of a rapist is 31 years old.2
52% are white.2
22% of imprisoned rapists report that they are married.2
Juveniles accounted for 16% of forcible rape arrestees in 1995 and 17% of those arrested for other sex offenses.2
In 1 in 3 sexual assaults, the perpetrator was intoxicated — 30% with alcohol, 4% with drugs.3
In 2001, 11% of rapes involved the use of a weapon — 3% used a gun, 6% used a knife, and 2 % used another form of weapon.2
84% of victims reported the use of physical force only.2

Rapists are more likely to be a serial criminal than a serial rapist.

46% of rapists who were released from prison were re-arrested within 3 years of their release for another crime.4

18.6% for a violent offense.
14.8% for a property offense.
11.2% for a drug offense.
20.5% for a public-order offense.

---

References

U.S. Department of Justice, National Crime Victimization Study: 2009-2013.
U.S. Department of Justice, Bureau of Statistics. 1997 Sex Offenses and Offenders Study. 1997.
U.S. Department of Justice, Bureau of Statistics. 1998 Alcohol and Crime Study. 1998.
2002 Recidivism of Prisoners Released in 1994 Study. 2002.