Reporting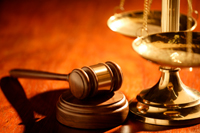 Justice can mean different things to different people, and reporting a crime to law enforcement is an individual decision. Many who have decided to report to law enforcement have described it as the first step in seeking justice for the crime by holding the perpetrator accountable for their actions. It may not be an easy decision to make, but it's a choice that may have a positive impact on your recovery.
Reporting can also have a positive impact on the lives of others. Perpetrators of sexual assault tend to be serial criminals. When you report sexual assault or abuse, you are increasing the chances that this person will face consequences for the crime, limiting the chance this person could hurt someone else.
Learn more about the process of collecting evidence through a sexual assault forensic exam, sometimes called a rape kit.
The criminal justice system can seem easier to navigate when you understand the key processes and players.
The idea of testifying may feel overwhelming or intimidating for some survivors of sexual violence. Learning more about the process and what support is available can help you feel more comfortable and prepared.