DoD Safe Helpline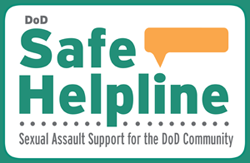 About DoD Safe Helpline
Department of Defense (DoD) Safe Helpline is a groundbreaking crisis support service for members of the DoD community affected by sexual assault. Safe Helpline provides live, one-on-one advice, support, and information to the worldwide DoD community. The service is anonymous, secure, and available 24/7 — providing victims with the help they need, anytime, anywhere.
Specially-trained Safe Helpline staff provide help three ways:
Online
The Online Helpline provides live, confidential help through a secure instant-messaging format at SafeHelpline.org. The website also provides vital information about recovering from and reporting sexual assault.
Learn more about the Online Helpline.
Telephone
Victims who prefer to get help by phone can call 877-995-5247 to speak with Safe Helpline staff for personalized advice and support. Safe Helpline staff can also transfer callers to installation or base Sexual Assault Response Coordinators (SARCs), civilian rape crisis centers, the Suicide Prevention Lifeline or Military One Source.
Learn more about the Safe Helpline.
SMS/Text Message
Just text your zip code or installation or base name to 55-247 (inside the U.S.) or 202-470-5546 (outside the U.S.) and we'll text back contact information for the SARC on your installation or base. You can also search for help here.
---
Materials Request
To request materials, please fill out the form here.
---
Safe Helpline services are provided by RAINN through a contract with the Department of Defense's (DoD) Sexual Assault Prevention and Response Office (SAPRO) — however, your information will remain confidential. RAINN will not share your name or any other personally identifying information with SAPRO or your chain of command.
RAINN has adapted the award winning National Sexual Assault Online Hotline to provide specialized help via the Online Helpline to members of the DoD community who have been sexually assaulted. All Safe Helpline staff members have been trained to answer questions relating to military specific topics such as Restricted and Unrestricted Reporting and how to contact relevant military resources, such as your installation or base's Sexual Assault Response Coordinator (SARC), should those services be requested.