Support RAINN
"One of America's 100 Best Charities
—Worth Magazine"
Your Support — and Your Trust — is Crucial to RAINN
RAINN relies on support from donors like you. Without your help, the National Sexual Assault Hotline, Online Hotline, RAINN Day, and other vital programs would cease to function. We are committed to winning and keeping your trust by meeting the highest standards of fiscal management, program effectiveness, and governance.
Don't just take our word on it.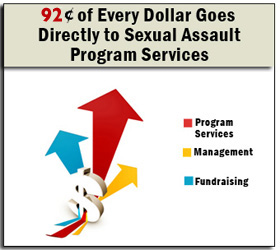 Here are what some independent sources have concluded after looking closely at RAINN's operations and management:
"One of America's 100 Best Charities" — Worth Magazine
After researching 819,000 charities, Worth selected RAINN as 1 of its 100 best. The magazine noted RAINN's "effectiveness, efficiency, and professionalism."
"One of 10 Best Charities in the U.S." — Marie Claire Magazine.
---
Our Networks: