Support Reauthorization of the Debbie Smith Act
What is the Debbie Smith Act?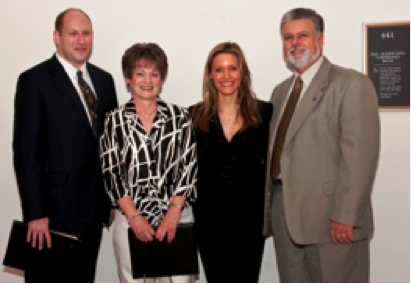 (from left): RAINN president and founder, Scott Berkowitz
Debbie Smith, actress KaDee Strickland, Rob Smith.
The Debbie Smith DNA Backlog Grant Program provides funding to state and local law enforcement agencies to perform DNA tests on evidence they collect from rape crime scenes. Named after rape survivor Debbie Smith, whose perpetrator was caught through CODIS, the national DNA database, the program has helped identify thousands of rapists and made our communities safer. Renewal of this act will ensure that we can continue to accurately assess and reduce the backlog of untested DNA evidence from open rape cases (commonly known as rape kits) and bring perpetrators to justice.
Why We Need It
There's a huge backlog of DNA evidence from unsolved rape cases that has never been sent to the lab for analysis. Until we test this evidence and identify the rapists, those criminals remain free to attack more victims. Moreover, recent changes to the law will help bring transparency to the DNA rape kit testing process, help us efficiently target resources to cities that have the biggest backlogs, and empower those communities with information about the rape kit testing status in their area. Ensuring that the federal investment in this program continues will help eliminate the evidence backlog and take thousands more rapists off the streets.
Current Efforts
S. 822, the Justice for All Reauthorization Act of 2013, renews the Debbie Smith Act for five years. The bill is sponsored by Sens. Patrick Leahy (D-VT) and John Cornyn (R-TX). This legislation has historically enjoyed wide bipartisan support, passing by large margins in 2004 and 2008. Want more information? Read a section-by-section summary of the bill. Then ask your Senator to co-sponsor it!