A Crime Without Consequence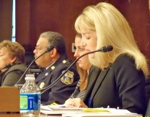 SB member, Julie Weil
The Senate Judiciary Committee this month took on the disturbing topic of the reporting and prosecution of rape cases — or, more accurately, the lack of reporting and prosecution. Sens. Arlen Specter and Lindsey Graham, the top Democrat and Republican on the Crime and Drugs subcommittee, respectively, invited Scott Berkowitz, RAINN's founder and president, and Speakers Bureau member Julie Weil to testify about how to fix the broken system.
Justice Department studies show that six out of ten rape victims do not report their attack to police. Berkowitz told the committee that, given the low reporting rate and the fact that most reported rapes don't lead to an arrest and conviction, as many as 15 out of every 16 rapists will never spend even a single day in prison.
"In America today, rape is a crime without consequence — except for the victim," Berkowitz testified. "Not only do rapists escape any punishment for the crime they've just committed, they're emboldened to commit another rape, and many more after that. Not surprisingly, rapists have figured this out."
Weil, who was abducted and raped four times in the presence of her two young children, called attention to the need for strong support services for victims. She credits professional, supportive, and compassionate law enforcement officers and medical personnel for her ability to report the crime, testify at her rapist's trial, and ultimately achieve justice, a process that took more than four years. "The power that a positive experience with law enforcement and the legal system can have on a life — and on public safety — is enormous," Weil told the committee.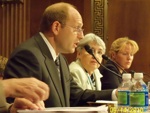 RAINN founder, Scott Berkowitz
Both Berkowitz and Weil emphasized the need to provide specialized training for all law enforcement and healthcare professionals, as well as the importance of recovery resources such as the National Sexual Assault Hotline (800.656.HOPE and online.rainn.org [4]), operated by RAINN.
To begin addressing the problems, in particular the under-use of DNA to investigate rape cases, Berkowitz recommended that Congress pass the SAFER Act [5], which will help end the backlog of untested DNA evidence. He also urged Congress to focus specifically on increasing rape reporting and conviction rates in the Violence against Women Act (VAWA), a new version of which Congress will take up next year.
Read the testimony given by Scott Berkowitz [6] and Julie Weil [7].