SAFER Act Would Create DNA Registry, Aid Law Enforcement and Victims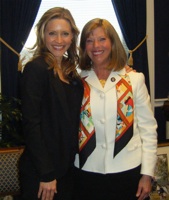 Strickland with Rep. Jo Ann Emerson (R-MO)
The Sexual Assault Forensic Evidence Registry (SAFER) Act, introduced in Congress, "will lead to testing more DNA evidence and taking more rapists off our streets, says RAINN president Scott Berkowitz. He says RAINN considers it a vital next step in the nation's efforts to analyze DNA evidence from all open rape cases.
The SAFER Act, introduced by Reps. Caroline Maloney (D-NY) and Ted Poe (R-TX), enhances the Debbie Smith Act to create a national registry of forensic evidence from sexual assault cases. The registry will be online and accessible to the public, shedding light on the untested DNA evidence in thousands of rape cases.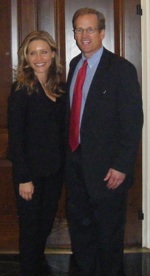 Strickland with Rep. Jack Kingston (R-GA)
Law enforcement will log up-to-date information on each rape case into SAFER, noting whether the DNA evidence has been analyzed or is awaiting testing. To protect privacy, SAFER will not include any a victim's name or other identifying information. Victims will receive a confidential code that allows them to check on the testing status of evidence from their own case.
According to Rep. Maloney, who authored the original Debbie Smith Act, "With this legislation, we can obtain the data needed to accurately track whether a backlog exists and how bad it is —and bring the power of web-based transparency to local law enforcement. Citizens and rape victims will be able to see with a few clicks the full contours of local DNA processing status. It's 'Government 2.0' applied to this most heinous of crimes: rape."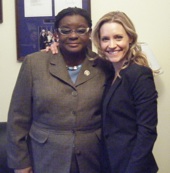 Strickland with Rep. Gwen Moore (D-WI)
Rep. Poe, co-chair of the Congressional Victims Rights Caucus, notes that, "Law enforcement agencies cannot process kits fast enough, and as a result, rapists are walking free." He says that, "Justice requires diligence and it is my hope that this legislation will increase the efforts of law enforcement divisions throughout the country as they seek to serve their communities and apprehend, and convict, those who commit these despicable crimes."
The SAFER Act, H.R. 6085, will also establish better standards for the tracking, storage and use of DNA evidence in sexual assault cases.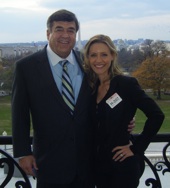 Strickland with Rep. Dutch Ruppersberger (D-MD)
Joanie Stewart, a member of RAINN's Speakers Bureau, is one person who would have been helped by SAFER. In 1991, she was brutally raped, beaten, and nearly strangled on Easter morning. Through DNA evidence testing, Joanie's attacker was identified 18 years later. After raping Joanie, her perpetrator went on to rape at least one other woman in 2001. The forensic evidence from the 2001 attack was not tested until 2009. Had the SAFE kit been tested sooner, Joanie's case would have been solved years earlier, preventing at least one other sexual assault.
Joanie supports the SAFER Act and believes that had a web-based registry existed earlier, it would have given her access to vital information when she needed it most: "Knowledge is power. Having information on the status of the forensic evidence will empower victims to become their own best advocates and regain faith in the system," said Joanie. "Information is armor and gives courage to victims to go forward and fight and for their truth to be heard. I would rather be afraid of what I know, than terrified of what I don't know."
Find more information on the SAFER Act [4].