RAINN Turns 16!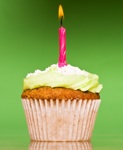 Sixteen years ago this week, RAINN's founder, Scott Berkowitz, stood beside musician Tori Amos backstage at a Baltimore concert hall, in front of a large group of photographers, cameramen, and reporters. Amos, RAINN's first spokesperson, dialed 1-800-656-HOPE, making the ceremonial first call. With that, the National Sexual Assault Hotline was launched.
A lot has happened since then. RAINN has grown from one program (the hotline) to become the largest anti-sexual violence organization in the nation. Here are just a few of the things RAINN has accomplished in that time:
The National Sexual Assault Hotline has helped 1.4 million victims.
RAINN launched the National Sexual Assault Online Hotline, which won the coveted Technology Innovation Award for being the best use of technology by a nonprofit.
RAINN's network of partner rape treatment centers has grown from 347 to 1,100.
Television networks and other media partners have donated more than $200 million of ad time to promote RAINN and the hotlines.
The organization created RAINN Day, a college education that takes place on more than 1,000 campuses nationwide. More than 5,000 volunteers participate in RAINN Day each year.
RAINN developed an aggressive public policy program and helped pass landmark legislation like the Debbie Smith Act and the new cruise crime bill.
And, RAINN has been fortunate to receive the help of supporters like you.
Please help us to honor the last 16 years of progress by pledging to donate $16 a month [4] to RAINN — just 53¢ a day. Over the course of a year, your 53¢ a day will enable 19 victims to receive the support that they need and deserve.