Speakers Bureau Spotlight: Julie Weil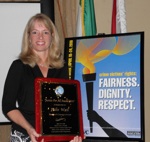 The Office of the Florida Attorney General recently presented RAINN Speakers Bureau member Julie Weil with the "Stamp of Courage" award for her work to inform law enforcement about the tremendous impact of their words and actions after a victim is sexually assaulted. Weil says that law enforcement's careful handling made an enormous difference in the aftermath of her rape.
While presenting the award after her keynote speech at an event marking National Crime Victim's Rights Week, officials said that Weil's efforts inspired law enforcement officers and help guide the way they treat victims of sexual violence.
Weil recently addressed a group of medical professionals training to become sexual assault nurse examiners at the Florida Council Against Sexual Violence's annual conference in Sarasota, FL. Later this summer, she will address more than 100 Florida assistant state attorneys on how to better communicate with victims of sexual violence.