The New Face of the Online Hotline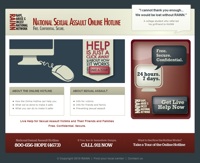 RAINN this month launched a redesign of the National Sexual Assault Online Hotline [4], to better serve the record number of victims who are turning to the online service for recovery help. The OHL's new design is more intuitive, easier to navigate, and more visually appealing. It also features a new virtual tour of the hotline, which visitors can view before entering into a session. These upgrades will enhance each visitor's experience as well as assist victims and their families in getting the help they need.
The Online Hotline, featured on The Oprah Show in February, is experiencing record demand — the number of visitors getting help is up 16% over last year. The OHL, winner of the Technology Innovation Award from Npower and Accenture for being the best use of technology by a nonprofit, has greatly expanded the universe of victims reaching out for help by offering an alternative to the traditional telephone hotline. Sixty-nine percent of OHL users are between the ages of 13-24.
Visit the new Online Hotline [4]
Our Networks: