Wife of Former U.S. Senator Speaks Out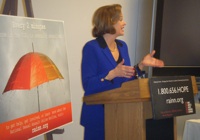 Rosemary Trible
RAINN this month sponsored a briefing for members of Congress and Congressional staff to hear from Rosemary Trible, a courageous survivor of rape and author of the new book Fear to Freedom [4]. Trible, the wife of former Virginia Senator Paul Trible, still has many friends on Capitol Hill, and a packed room listened intently to her story after introductions by Reps. Donna Edwards and Frank Wolf and Ambassador Tony Hall.
In 1975, Trible was the host of a television talk show in Richmond called Rosemary's Guestbook. Shortly before Christmas of that year, Trible stayed at a hotel across the street so that she could tape several shows the next day to get them "in the can," so she could take time off to be with her family. That night, Trible was raped at gunpoint in her hotel room. During the attack, she repeated the Lord's Prayer to herself to try to keep her mind from going into shock. Still, she says she remained frozen in fear long after the assault.
As Trible shared both in her book and with lawmakers in Washington, "A rapist doesn't want to ruin just one night. He wants to ruin your life." For Trible, it has been a long journey from fear to freedom, but one that she has quietly helped other women walk for the last three decades.
Since 1996, her husband Paul has been president of Christopher Newport University in Newport News, VA, where Rosemary Trible helps young women who have been abused overcome their fear and pain. She listens and ministers to many young women who have survived sexual assault, and aspires to help them move, as she did, from fear to freedom.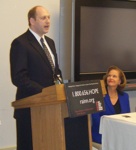 Scott Berkowitz
But it has only been in the last two months that Rosemary has talked publicly about her experience, and she hopes that her story will help more survivors to heal.
Before the Congressional event, Trible and Scott Berkowitz, RAINN's president, met privately with many members of Congress, including Sen. Bill Nelson and Reps. Eric Cantor and Frank Wolf, to brief them on the urgent need for more recovery resources for victims of sexual violence.
"My family has known Rosemary Trible for over three decades," said Rep. Wolf, who introduced Trible at the event. "I was pleased to join RAINN at their recent event on Capitol Hill where they provided a forum for her to share some of her own compelling journey from fear to freedom—the title of her new book. RAINN and other anti-sexual assault organizations throughout the nation provide invaluable services to victims of sexual violence."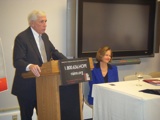 Representative Frank Wolf
RAINN sponsored the briefing with the help and cooperation of Reps. Wolf and Bobby Scott; Reps. Ted Poe and Jim Costa, the Congressional Victims' Rights Caucus co-chairs; the co-chairs of the Congressional Caucus for Women's Issues' Violence Against Women Task Force, Reps. Donna Edwards and Sue Myrick; and Ambassador Tony Hall, a former member of Congress. RAINN helped to spread Rosemary's important message of healing as well as highlight upcoming legislative priorities:
Funding for DNA testing and local rape crisis centers.
Reauthorization of the Violence Against Women Act and the Adam Walsh Act.
You can read more about the event in The Hill. [5]