Ricci Meets with Members of Congress
Christina Ricci, RAINN's national spokesperson, and Scott Berkowitz, RAINN's president, spent the day meeting with some of RAINN's key allies on Capitol Hill to discuss pending legislation to combat sexual violence. Congress will soon vote on crucial funding to expand the use of DNA in rape investigations and ensure that victims get the hotline and support services necessary to aid their recovery.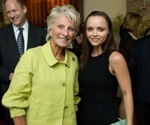 Ricci with Rep. Harman
Another bill pending in Congress will help passengers on cruise ships who become victims of sexual assault or other violent crimes. The lead sponsor of the House bill, Rep. Doris Matsui (D-CA), met with RAINN's leaders to discuss strategy for final passage of the bill this fall. (RAINN is also working with lead sponsor Sen. John Kerry, D-MA, to pass the bill in the Senate.) The bill would mandate safety improvements on cruise ships, improve evidence collection and medical care for victims, and guarantee victims on-board access to the National Sexual Assault Hotline and Online Hotline, both operated by RAINN.
Rep. Carolyn Maloney (D-NY), who last year led Congress to renew the Debbie Smith Act, which helps local police use DNA to solve more rape cases, met with Ricci to discuss the next steps needed to ensure that every state eliminates its backlog of untested DNA evidence. They also discussed Maloney's bill to fight sex trafficking.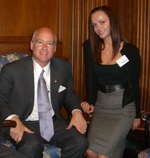 Ricci with Rep. Aderholt
Rep. Robert Aderholt (R-AL), a staunch supporter of helping victims of sexual violence, met with Berkowitz and Ricci to discuss this year's appropriations process and, in particular, funding for vital services for victims.
RAINN's team also met with Rep. Ted Poe (R-TX), co-chair of the Congressional Victims' Rights Caucus and a former judge famed for being tough against sex offenders, to discuss his plans to build broader Congressional support for fighting crime. RAINN has partnered with the Congressional caucus to sponsor briefings for members of Congress on DNA and other issues.
To read more about Ricci's successful Hill visit, check out:
Washington Post [4]
Washington Time [5]
ABC News [6]
Politico [7]


Read more about Ricci's involvement in RAINN's D.C. fundraiser [8]