Why I Run: Mike
Editor's Note: The "Why I Run" Series is a three-part series featuring survivors of sexual assault and their loved ones who include physical fitness as part of their healing process. Join them on May 21st for the third annual Lace Up for RAINN 5K. Learn more and sign up to participate.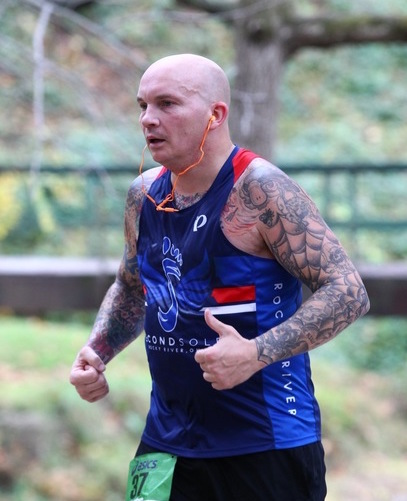 "I began running as a way to get physically healthy, but it became much more," Mike said. "I run to have a healthy outlet for the memories, and to support my recovery."
Mike is a survivor of child sexual abuse. Traumatic memories from these experiences led to addiction, crime, homelessness, and eventually prison.
In time, Mike dedicated himself to finding a different path. He explored different options to help him recover and found that some strategies worked better than others. For Mike, physical activity became an integral part of his recovery process.
Today, Mike regularly runs marathons and ultra-marathons to support his healthy lifestyle. Aside from the physical benefits, Mike enjoys running because it acts as a natural antidepressant for him. "I do the work to keep myself healthy and happy."
But for Mike, running is about much more than fitness and physical health. It's a way for him to raise awareness about crimes of sexual violence and supporting other survivors. In September, Mike will be participating in his first 24-hour long endurance race in Ohio to raise awareness and funds for children who have been sexually abused. While running, Mike often wears a special blue and white shirt that honors child sexual abuse survivors. He cites it as a source of inspiration.
"Running reminds me that being a survivor is about more than overcoming the past," Mike said. "It's about celebrating both the joy of being alive and the knowledge that within me is everything I've ever needed to thrive and stop the devastating crime of rape for good."
Today, Mike is a business executive, and enjoys spending time with his spouse and three children. He believes in sharing his story through public speaking and awareness efforts to help fellow survivors feel more comfortable about speaking up when something isn't right.
"After six years of childhood [sexual] abuse and a lifetime of pain, I like to show myself and others that I can do anything even after all of the trauma that I suffered."
Join supporters and survivors like Mike at the Lace Up for RAINN 5K on May 21st, either virtually or in-person in Washington, DC. Learn more and sign up to participate.
If you or someone you know has been affected by sexual violence, it's not your fault. You are not alone. Help is available 24/7 through the National Sexual Assault Hotline: 800.656.HOPE and online.rainn.org, y en español: rainn.org/es.