RAINN's National Sexual Assault Online Hotline Now Available in Spanish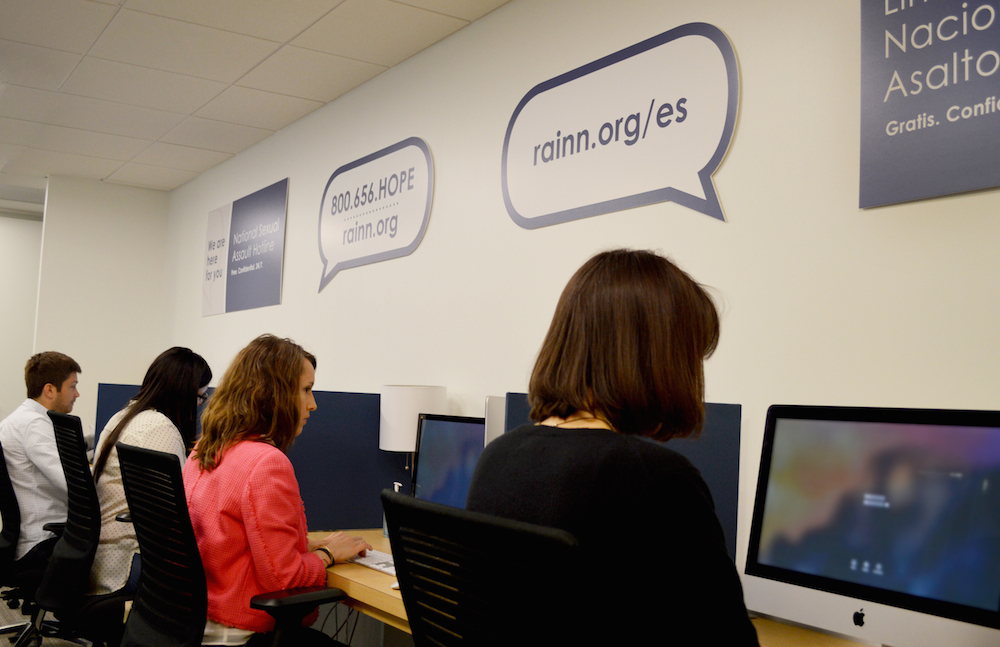 Para leer en español, haga clic aquí
 RAINN today launched free, confidential support for Spanish-speaking survivors of sexual assault through the National Sexual Assault Online Hotline. The new Spanish-language service, made possible by a Vision 21 grant from the Department of Justice's Office for Victims of Crime, will be available 24/7 at rainn.org/es. It is designed to be accessible to survivors among the 37.6 million people in the United States who primarily speak Spanish.
RAINN's hotline staffers are now able to provide support in Spanish or English. The Online Hotline provides sexual assault survivors with live, one-on-one help in a safe and secure setting, leading them to take their first steps following an assault.
Through the Online Hotline, Spanish-speaking survivors of sexual assault, and their family and friends, will have access to confidential support services, as well as information about short- and long-term care, medical options and the criminal justice process. RAINN staff can also connect visitors with local referrals tailored to meet their long-term needs.
"This RAINN initiative embodies the kind of work the field must undertake to ensure that all crime victims have access not only to services, but access that is linguistically accessible and culturally competent," said Joye Frost, director of the Office for Victims of Crime. "The hotline's new Spanish-language service exemplifies our shared commitment to reaching under-served victims through appropriate and victim-centered services."
RAINN launched the Online Hotline in 2006 as an extension of the National Sexual Assault Hotline telephone service (800.656.HOPE). Visitors can access the Online Hotline through a computer or mobile device any time of day or night to chat one-on-one with a RAINN staff member. To date, the Online Hotline has helped over a quarter of a million people.
Many survivors feel more comfortable reaching out for help online before speaking out loud. "Over 70% of our visitors are under the age of 24, and we often hear from them, 'You're the first person I've ever told,'" said Candice Lopez, director of the National Sexual Assault Hotline.
RAINN's online chats are completely anonymous: The technology does not capture the IP addresses of users, so interactions can't be traced. The Online Hotline is operated by professionally trained support specialists who are responsive to cultural sensitivities. Staff do not need to know any personally identifying information about hotline visitors in order to provide help and resources.
Beatriz Alvarado, a survivor and member of RAINN's Speakers Bureau, explained that when she was assaulted as a child, her immigrant parents felt as though they had nowhere to turn for help:
"They did not even feel comfortable telling any family members about it, but anonymous help or support in Spanish may have made a huge difference," she said.
In addition to the Online Hotline, Spanish-speaking visitors will have access to a new search tool at centros.rainn.org: The tool allows users to search by state or ZIP code to identify Spanish-language sexual assault service providers near them. Services provided by local providers are usually free or low-cost, and may include counseling, casework assistance or legal advocacy. "The expansion of the Online Hotline will be an outstanding supplement to the work already happening at sexual assault service providers across the country," said Jennifer Marsh, RAINN's vice president for victims' services.
RAINN.org's informational content has also been expanded to provide recovery information, tips and advice in Spanish. Later this year, RAINN will expand its Spanish-language services to include an online group chat system, allowing survivors to connect with and support one another in a secure way through RAINN's website.
Spanish language services are made possible through a Vision 21 grant from the Department of Justice's Office for Victims of Crime. The Virginia Sexual and Domestic Violence Action Alliance has served as an official partner in launching the services.
If you or someone you know has been affected by sexual violence, it's not your fault. You are not alone. Help is available 24/7 through the National Sexual Assault Hotline: 800.656.HOPE and online.rainn.org, and en espanol: rainn.org/es.
RAINN (Rape, Abuse & Incest National Network) is the nation's largest anti-sexual violence organization and was named one of "America's 100 Best Charities" by Worth magazine. RAINN created and operates the National Sexual Assault Hotline (800.656.HOPE and online.rainn.org) in partnership with more than 1,000 local rape crisis centers across the country and operates the DoD Safe Helpline for the Department of Defense. In 2015, the Online Hotline expanded to offer services in Spanish at rainn.org/es. The hotlines have helped more than two million people since 1994. RAINN also carries out programs to prevent sexual violence, help victims and ensure that rapists are brought to justice. For more information about RAINN, please visit rainn.org.
This product was produced by RAINN under #2014-XV-BX-K005, awarded by the Office for Victims of Crime, Office of Justice Programs, U.S. Department of Justice. The opinions, findings, and conclusions or recommendations expressed in this press release are those of the contributors and do not necessarily represent the official position or policies of the U.S. Department of Justice.