RAINN President Rings NASDAQ Closing Bell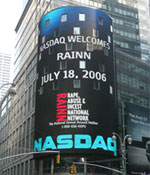 August 20, 2006 - On July 18, 2006, RAINN President and Founder Scott Berkowitz presided over the NASDAQ Closing Bell ceremony to commemorate helping one million people through the National Sexual Assault Hotline. He was joined by several rape crisis center representatives, RAINN staff members, sexual assault survivors and other supporters.
To view highlights or the full version of the ceremony, please click on the links below. For more information on RAINN's journey from its founding in 1994 to helping one million people, please visit http://million.rainn.org.