Spokesperson Christina Ricci Joins RAINN for D.C. Fundraiser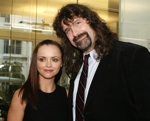 Ricci with Mick Foley
RAINN's national spokesperson, Christina Ricci, headlined a benefit in the nation's capital on September 9th. Several hundred supporters joined the event's co-chairs, longtime supporter Tracy Sefl and Katherine Miller, a member of RAINN's board, and Rep. Jane Harman, a Congressional leader in the fight against sexual violence for a fun evening at the Penn Quarter offices of Navigators Global.
For those who couldn't attend, the party was DC's very first pay-per-tweet benefit. For a donation to RAINN, supporters got exclusive access on Twitter to Ana Marie Cox's live reports from the event, including her interview with Christina Ricci.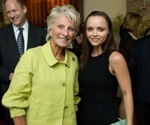 Ricci with Rep. Harman
Rep. Harman, with whom RAINN has worked closely to combat sexual violence against members of the U.S. military, gave a rousing talk about the need for further action. She pointed out that a woman serving in Iraq is more likely to be raped by a colleague than to be killed in action. Rep. Harman also praised the importance of RAINN's advocacy work on Capitol Hill.
Read more about Ricci's Capitol hill visit.
Among the guests were professional wrestler Mick Foley, former WWF champion and author of two New York Times bestsellers, Democratic party bigwig Terry McAuliffe, and Cybele Daley, a leading criminal justice lobbyist and former Justice Department senior official.
Members of RAINN's speakers bureau were also present, including Miss Maryland, Gabrielle Carlson. Ricci said she was particularly pleased to meet these survivors of sexual violence, who have spoken out in such a personal way.
To read more about RAINN's successful event, check out: