RAINN Provides Free Online Training for Crisis Centers and Volunteers
Are you a rape crisis center staffer or volunteer looking to hone your skills and increase your understanding of sexual violence issues? RAINNTrain.org is the perfect resource for anyone who wants to become more prepared and knowledgeable in educating his or her community, helping survivors, and/or volunteering at a rape crisis center. Funded by a grant awarded by the Office on Violence Against Women, U.S. Department of Justice, RAINNtrain provides free, online training sessions that can be easily accessed by all. Once creating an account, users can pick and choose which training sessions are most beneficial to their particular situation. Each course is equipped with an estimated time of completion, but allows you to work at your own pace and fully comprehend each section before moving to the next.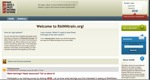 The available trainings include information on a variety of relevant topics. RAINNTrain.org recently added three new courses to enhance skills in distinct areas. The first new addition, "Beyond 'Date Rape' Drugs: Drug-Facilitated Sexual Assault" develops skills of volunteers and staffers who encounter a hotline user who has experienced drug-facilitated sexual assault. The second, "Train-the-Trainer: How to Conduct Great Trainings" provides innovative ideas, activities, and ways to create more interactive and engaging trainings that will expand the repertoire of the volunteers and staff of local crisis centers. The third new course, "Establishing Partnerships with Faith-Based Communities," explains the benefits of partnering with faith communities to reach victims of sexual assault and advises crisis centers how to go about creating such partnerships.
Additionally, RAINNTrain.org provides five different training plans for those who wish to conduct the courses at their own rape crisis centers. If you would like to obtain a training plan, take part in any of the available training sessions, or get more information, visit: RAINNTrain.org today.