RAINN's Dragon Tattoo Program
RAINN Teams with Music Box Films on Social Action Campaign for Stieg Larsson's Millennium Trilogy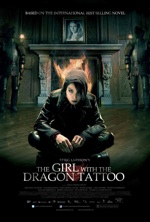 Want to host a screening of Dragon Tattoo in your community?
RAINN and Music Box Films invited students and activists all over the U.S. to host a screening of the feature film The Girl With the Dragon Tattoo, followed by a discussion session. Participants worked closely with RAINN and Music Box Films to set up the best event possible for their community.
The last day to request a screening was December 1, 2010
Screenings must be completed and DVDs returned to Music Box Films by December 31, 2010.
*Warning: This film includes scenes with graphic violence, which have the potential to trigger difficult memories for some viewers. Before hosting your screening, learn about potential challenges for survivors. Consider having counselors or the contact information for the National Sexual Assault Hotlines (800.656.HOPE and online.rainn.org) at your screening.
Why Dragon Tattoo?
As you may know from the book, this film adaptation of Stieg Larsson's novel The Girl With the Dragon Tattoo, brought to you by Music Box Films, illustrates the real life effects of sexual violence on victims and survivors, emphasizing the importance of getting help. Dragon Tattoo follows a "disgraced journalist and troubled young female computer hacker who investigates the mysterious disappearance of an industrialist's niece." Together, with the help of Mikael Blomkvist, a journalist recently trapped by a libel conviction, they tap into the thrilling history of one of Sweden's wealthiest families.
Learn more about The Girl With the Dragon Tattoo
Learn more about Music Box Films
Why RAINN?
The Rape, Abuse & Incest National Network is the nation's largest anti-sexual violence organization. RAINN leads national outreach efforts by educating the public about sexual violence prevention and services for victims. Our hope is that this film will spark dialogue in communities all over the U.S. about sexual violence and the recovery resources available, such as the National Sexual Assault Hotline (800.656.HOPE) and Online Hotline.
Learn more about RAINN
NOTE: This Film is Rated R — Restricted. Children Under 17 Require Accompanying Parent or Adult Guardian - for disturbing violent content including rape, grisly images, sexual material, nudity and language.
For more information about the film's rating, please visit the Motion Picture Association of America.