V-Day
What is V-Day?
V-Day is a global movement to end violence against women and girls that raises funds and awareness through benefit productions of playwright/founder Eve Ensler's award-winning play, The Vagina Monologues, and other artistic works.
How You Can Help RAINN
The organizer of each local V-Day production chooses what organization will benefit from the show, giving RAINN supporters around the world an easy way to raise funds to help survivors through the National Sexual Assault Hotline (1.800.656.HOPE and online.rainn.org).
By choosing RAINN as your beneficiary, you will be making a difference in your own community and helping thousands more across the country.
If you would like to learn more about selecting RAINN, please contact Chelsea Bowers at chelseab@rainn.org or 202.544.3561 with questions.


Helpful Materials:
If you are benefiting RAINN and would like RAINN literature to display at your V-Day event, please choose from the materials listed below and download & print as you see fit.

Info. Sheets:
One page summary on National Sexual Assault Hotline, National Sexual Assault Online Hotline, Policymaking, Educating America, and Volunteering.

Get Carded card:
(geared towards college-age students)
RAINN's "Get Carded" cards provide information about preventing and recovering from sexual assault.

College Brochure:
(geared towards college-age students)
Provides statistics, safety tips, ways to volunteer and information on the hotlines.



Statistics:
Includes information on the number of sexual assaults per year, age of victims, attacker's relationship to victim, etc.

Every 2 Minutes:
"Every 2 minutes, someone in the U.S. is sexually assaulted.
To get help, get involved, or learn more about the National Sexual Assault OnlineHotline, visit: rainn.org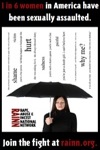 Volunteer Handouts:
All about RAINN's volunteer opportunities, which include volunteering for the National Sexual Assault Hotline and Online Hotline, and planning an event to benefit RAINN.

Model Release Form:
Document to grant RAINN and its designees the right to use the subject's name, likeness, image, voice, appearance, and performance as embodied in the product whether recorded on or transferred to videotape, film, slides, photographs, audiotapes, or other media, now known or later developed.
Posters

Stop and Listen: ~~ designed by Agustina Gaviola:
"It's never too late to get help.
National Sexual Assault Hotline.
Free. Safe. Confidential. 24/7."





Stop and Listen: ~~ designed by Marie Fukuda:
"83% of college men respect their partners' wishes about sexual activity.
Make sure you both want the same thing."
What Would You Do? ~~ designed by Marie Fukuda:
"74% of college men would intervene to prevent a sexual assault.
You could save a friend from becoming a victim of sexual assault. Or from committing a crime."